Concussion Pre-hab & Rehab Seminar
From Concussion to Athletic Performance
RAISE YOUR GAME & PERFORM AT YOUR BEST!
"Greater than 70% of Athletes Become Injured Annually"
*5 days broken up in to 1-day bi-weekly or monthly
To reserve a spot, please contact us
Objectives
33 + years of experience in the areas of high-performance athletics & regeneration

Advanced techniques that address Fascia, Lymphatics, Neuromechanics

Create profound lasting changes that improve communication with the brain & body

Identify areas that impede athletic performance

Results in less time & with less effort
Learn
Injury Prevention techniques

Pre-Hab techniques

12 Step Protocol on how to deal with concussions & address sports performance

Latest scientific research on concussions

Learn about the warning signs of a concussion

Learn about Fascia & how it affects the body & sports performance

How a concussion is not just a blow to the head

How a concussion affects fascia, neurology, lymphatic, sports performance & metabolism

How to improve circulation to the brain & other areas of the body

Movement exercises that stimulate brain development

How to decrease pain & stiffness

How to increase sports performance beyond the concussion

Accelerate Recovery via Non-Evasive Regeneration Techniques

Prevention techniques to minimize the chance for a concussion
The Mission
"Simplicity is Complexity in Reverse. Changing the Standard in Athletic Preparation"
To deliver a comprehensive, personalized "360-Degree Integrated Approach" to high performance athletic program design, Health & Wellness, that identifies & addresses the blockages to health & wellness & athletic prowess.
To deliver athletic performance:
In less time

With less effort

With less injury potential

With Faster Recovery

With greater knowledge

By Working smarter, Not harder
The "360-Degree 4-Gear Integrated Approach", encompasses 4 areas of Investigation & Enhancement:
Physical & Structural (i.e. posture, speed, strength, power, endurance, flexibility, & mobility)
Biochemical (i.e. Pre-During-Post Exercise nutrition, Endocrine, digestion, assimilation, liver detoxification & elimination)
Environmental Modifications [Recovery (i.e. sleep, sauna, self-soft tissue release, home corrective exercises, lifestyle, daily ergonomics & environment (toxins)]
Psychological (i.e. somato-emotional)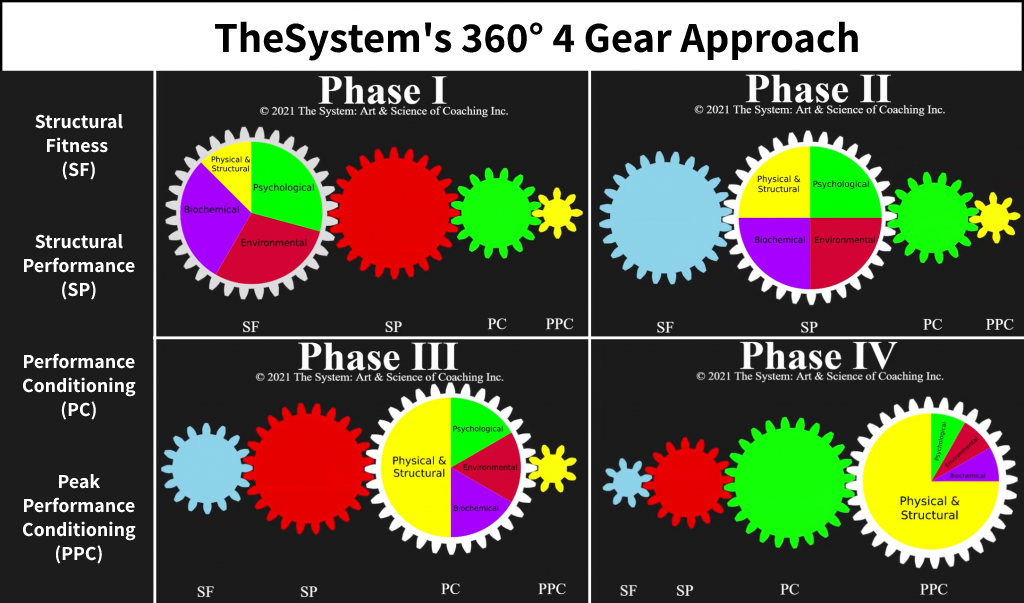 The System.ca "360-Degree 4-Gear Integrated Approach" to Athletic Performance & Wellness