Yusuf Omar is the premier authority in Canada in the field of speed and regeneration. For over 33+ years he has been providing personal guidance and specialized training to Olympians, professional athletes, and amateur athletes from a variety of sports. 
Yusuf is also highly trained in in the management of sports related injuries. His background in Myofascial structural body work osteopathy, Kinesiology, and Nutrition have allowed his clients to experience less down time, often coming back in better condition than before they were injured. 
When not working with clients, Yusuf can often be found lecturing at universities, to sports teams, and athletic organizations. He has also written and been a contributing author for a number of books & periodicals.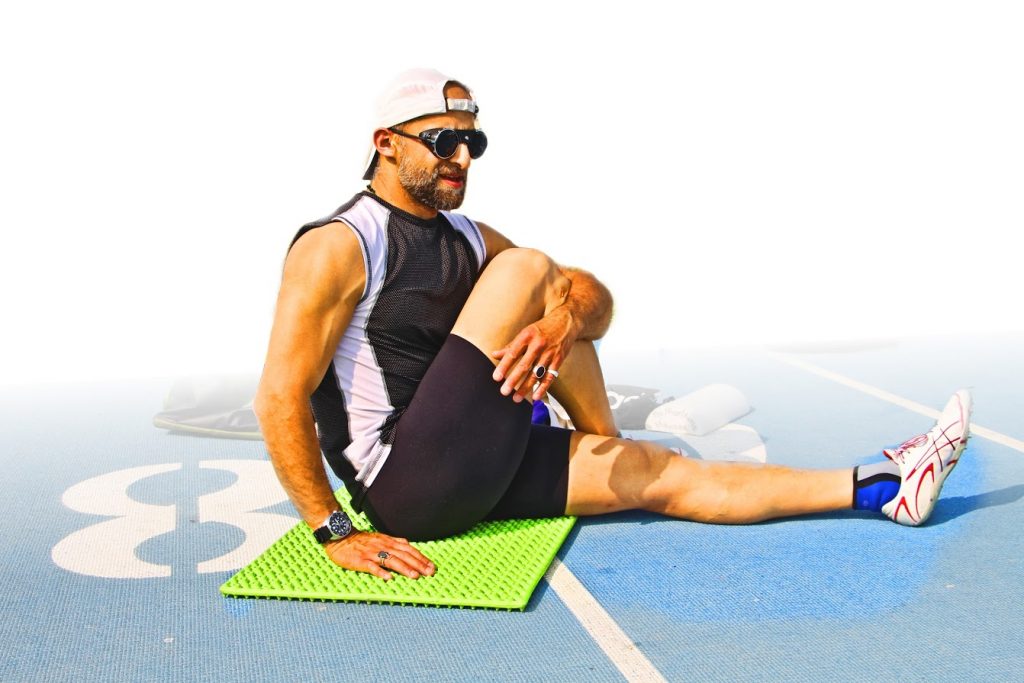 His Story
At the tender age of 4 years old, Yusuf suffered a Traumatic Brain Injury (TBI), but despite this incident, Yusuf managed
to pull through the TBI, where he was left with the inability to both speak & walk, as well as take care of himself. But
somehow or the other, with dogged determination, Yusuf managed to pull out of the TBI, & live a 'normal' life.
However, Yusuf still suffered for most of his life, with Post Concussion Symptoms. At the age of 30, whilst attending a
seminar on fascial distortion & cranial work, a colleague at the seminar, performed some work on him, that changed
his life from that point on wards. Finally, he was partially free from a majority of the Post-Concussion symptoms.
In 1996, after over a decade of conditioning, competing in provincial & national cycling events, Yusuf made a full-time
commitment to try & make it on the Olympic team for 1000m track cycling, but due to the concussion symptoms, he
could only muster up being 4 seconds shy of Olympic standard. Since then, he has retired from full-time competitive
cycling, & has grown from this journey from: concussion survivor, to Olympic-calibre athlete, to Masters Track & Field
athlete (unofficial 100m in 11.1 sec at age 52), to "Integrated High-Performance Athletic Enhancement &
Regeneration Specialist". Who knows whether the work that was performed on him the following year, might have
catapulted him to the Olympics?
Yusuf is known to most, as a "Physical & Regeneration Mercenary for Hire", & is regarded as one of the top athletic
speed & conditioning movement specialists. He also brings to the table a tremendous amount of 'in-the-trenches'
experience, as well as a myriad of formal educational background, to enhance athletic performance in "less time, with
less effort & less injury potential."
Yusuf currently focuses his passion, the past 33+ years of educational knowledge & real-life experiences, to assist
aspiring athletes from all ages, abilities (ranging from amateur youth & high school athletes, to various semi-pro &
professional organizations) & from various sporting events.
This approached has effectively helped many an athlete, prepare for competition via an ingenious methodology of
specialized conditioning (speed, strength development, regeneration & planning) & tailored to each athlete's unique
idiosyncrasies. Yusuf is able to extrapolate cause-and-effect relationships between trained movement & performance,
as well as, between nutrition & performance, better than most anyone in the field of conditioning, regeneration &
physical therapy.
Yusuf, gives athletes a chance at longevity in their respective chosen sport. Yusuf's hope is that the athlete's that he
works with, will be able to avoid the many challenges that arose when he was at the top of his game & then learn to
overcome them. If need be, Yusuf has access to an elite team of training, nutrition & sports therapy professionals at his
disposal.
Yusuf is a relentless life-long student, embarking on & discovering all he can, by enrolling in numerous courses, to learn
on how to deal with, not only concussions, but regeneration, high performance conditioning & sports nutrition.
Yusuf is also a sought-after presenter, sharing innovative "33+ years of in-the-trenches", proven protocols for
developing faster & stronger athletes & enhancing regeneration.
Experience
"Experience is a combination of what you know & the application of who have you applied it to" 
 As a busy athlete, the last thing you need to worry about is the conditioning, nutrition & regenerative side of what you do:
Yusuf has 33+ years of experience in preparing individuals & athletes from professional to amateur from several different sports 

Yusuf draws upon a vast array of experience working with a variety of Speed-Power Sports 

Yusuf gives you excellent & trustworthy advice on conditioning, nutrition & regeneration beyond simple, generic, "one-size-fits-most" approach

Yusuf has been a consultant to athletes from: 
✓ Provincial
✓ National  
✓ Division I Collegiate Athletics 
✓ OHL (Ontario Hockey League) 
✓ MLB (Major League Baseball) 
✓ CFL (Canadian Football League) 
✓ NHL (National Hockey League) 
✓ CSL (Canadian Soccer League) 
✓ IAAF (International Amateur Athletic Federation) 
✓ RCGA (Royal Canadian Golfers Association) 
✓ PSA (Professional Squash Association) 
✓ OCA (Ontario Cycling Association) 
✓ OTA (Ontario Triathlon Association) 
✓ OAA (Ontario Archery Association)
✓ OFSA (Ontario Figure Skating Association) 
✓ Rhythmic Gymnastics 
✓ Swim Ontario 
✓ Tennis Canada 
✓ Powerlifting Ontario 
✓ Olympic Lifting Ontario 
✓ Audi M1 GT Automobile Racing 
✓ Olympians 
✓ National Teams 
✓ World Record Holder 
✓ Masters Athletes 
"More Experience = Greater Efficiency = Maximized Time = Faster Results" 
Certification & Education
Diploma in Osteopathy 

Cranial-Sacral Certificate 

Visceral Manipulation Certificate

Certified Integrated Functional Medicine Coach 

Yoga Exercise Specialist Level 1

P

osturologist Level 2

Canadian Society for Exercise Physiology (CSEP) Certified Clinical Exercise Physiologist

Canadian Society for Exercise Physiology (CSEP) High Performance Specialist

Athletic Therapy Certificate (York U.)

Personal Trainer Certificate (York U.)

Bachelor of Physical Health & Education Degree (BPHED)

Certified Myofascial Structural Integration Body Worker

Certified Functional Medicine Coach

Tensegrity Myofascial Release Level 3

Symmetry Corrective Exercise Specialist Level 3

National Coaching Certification Program Level 5 (Theory)

National Coaching Certification Program Track & Field (Level 2)

Thai Yoga Massage (Current Study)
Publications
Power Training for Sport – Appendix: Training Charts & Tables for Plyometrics
Periodization: The Theory & Methodology of Training (4th edition) – Chapter 5 "Rest & Regeneration"
2016 IAAF Quarterly Periodical Journal – A Round Table Discussion on Recovery & Regeneration