ISBW & POSTURAL DISTORTION
It is often our poor posture combined with the lack of movement that drives biomechanical dysfunction. The alteration of biomechanics, influence the physiologic properties of muscular fibers. Muscles used to maintain posture, for the most part, can be divided into two categories: Tonic/Postural or Phasic. Tonic muscles are composed of more "slow-twitch" fibers that contract slowly, but are more fatigue resistant (i.e. for marathon). Phasic muscles, contain more "fast-twitch" fibers, and are designed to power and more explosive movements (i.e. for sprinting). The important difference for ISBW is that, postural muscles become hypertonic (i.e. shorten into dysfunction), while phasic muscles become inhibited (i.e. weaken or lengthen).
In order for both sets of muscles (i.e. tonic & phasic) to be normalized, requires a process that addressing both muscle activity and fascial restrictions.
The two most common patterns of myofascial dysfunction are:
Upper-Crossed Syndrome (a.k.a. head-forward posture) & Lower-Crossed Syndrome (a.k.a. anterior pelvic tilt)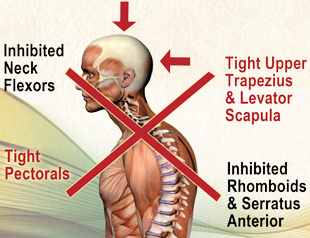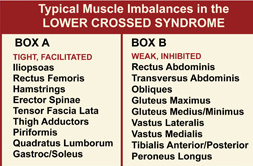 UPPER CROSSED SYNDROME LOWER CROSSED SYNDROME
ISBW strengthens the weaken muscles, then proceeds to address muscles that have become short and taugth. This methodology arises from Sherrington's law of reciprocal innervation/inhibition. The law states: the antagonist to an activated muscle will be inhibited. The resting tonus of a weakened phasic muscle is due to a neurologic inhibition from the tightened side, and not from lack of conditioning. The connective tissue, which surrounds muscle compartments, has a tendency to shorten in areas of stress, causing problems in mobility and joint function. These shortened areas of stress, are incredibly strong and relatively resistant to lengthening. Abnormal postures, physical trauma to soft tissue, will shorten the connective tissue, unless they are mitigated by ISBW techniques, which release the shortened tissue.
"When one tugs on their ear, they tug on the universe"
– John Muir –
CALL TODAY
(416) 635 – 9537